Tuesday, January 9th, 2007
Happy New Year everyone!
Here is my bandwidth graph for 2007 so far:
Yes, I got dugg and reddit-ed during the weekend. The first hump is reddit, the large spike afterwards is digg. The URL was from this blog, back in June'05:
The story of why I got started with vi/vim editing
I submitted it after seeing a post about "Bill Joy's greatest gift to mankind: the vi editor" on the front page of programming.reddit.com. I didn't expect so much popularity, but it seemed to resonate with the audience.
The comments both in reddit and in digg were very numerous and fun to read:
http://programming.reddit.com/info/x6zg/comments
http://digg.com/programming/Why_learning_vi_vim_still_makes_sense_in_2007
Having had about 20,000 people visit my blog during the weekend is always nice. It almost, but not quite, prevented me from concentrating on my current work: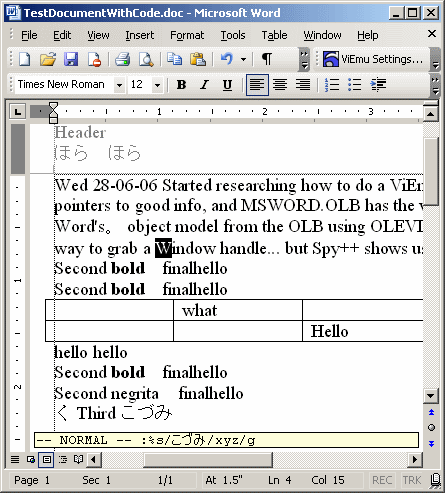 Yes, ViEmu for Word is already working. Yes, you can use Japanese text in ex commands and move around with a block cursor in proportional text and everything else… I expect to have a first alpha version for interested users ready during this week, hopefully becoming beta next week (feature-complete). After that, I'll release as soon as possible. Getting this to work has been a *huge* pain, but hopefully it will be interesting to some users.
Ah, and it also works great in Outlook message windows! I'll post another screenshot in a few days.
PS: Andrey released his latest product, BlackberrySpamFilter. Guess what it does? I think this will be a very successful product, and I wish him the best luck!