ViEmu 1.0 has been out for two weeks now and I've had some interesting feedback. I'm getting ready ViEmu 1.1, which solves some limitations in the integration with VS – ViEmu will take over all editing windows within VS, instead of being a separate editor type. This helps with the VB form and HTML editors within VS, and also with not getting the standard editor instead of ViEmu through some UI elements which are not completely correct within VS (such as the "View Code" button which bypasses the whole internal VS editor mechanism).
I think I will be able to release ViEmu 1.1 next week. This will address all the major outstanding issues in 1.0 and, with the exception of unforeseen bugs or problems, it will be the latest released version for some time.
Right after that, I will be getting back to NGEDIT. I've had the chance to think quite a lot about NGEDIT during the development of ViEmu, and I will probably start by doing some refactoring of the code. Apart from this, there are two major pieces that are missing before I can feel comfortable with how complete the tech base of NGEDIT is: syntax highlighting and regular expression search. I also want to improve the core memory management code, so that it will better lend itself to hex editing of files and storing other types of information.
There are a myriad other things to do then, in order to cover what the expectation of a modern text editor is. They will take quite some time, as each little detail needs its own love and care. But, after the refactoring and the major two features, I will already be able to start focusing on the most important part: the UI. I have a ton of ideas that I'm looking forward to implement and try out.
I thought it may be time to post an early screenshot of NGEDIT. It is from April, quite incomplete, but gives a good idea of the general look. Toolbar icons in large to appreciated the drawings 🙂 (click to see a full size version)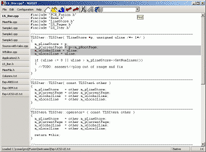 Given that I've checked out the beta of VS2005 to do the porting of ViEmu to VS2005 (which is already working), I've seen that Microsoft have gone with a similar look for the gradient-based UI background. With a bit less taste, if I may say so myself 🙂